"Dudley, turn that off please." I didn't think we needed to add more water to the area on which I had just run the sprinkler.
He replied, "But I need to make mud puddles!"
"I just had it on.  Turn it off."
"But we love mud puddles," Dudley stated emphatically.
Realizing that my boys had indeed been suffering  due to the absence one of their most liked sources of fun, I relented.  "I know it's been a hard year for mud puddles, hasn't it, Buddy?"
A hard year for mud puddles.  A hard year for crops.  I heard on the Weather Channel the other day, the Northeast is down over 5 inches of rain from normal.  The ground has turned powdery, mowing my brown, crispy lawn makes a dust storm, and our creek is completely dried up.  We need rain.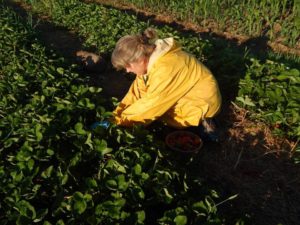 What is a strawberry season without rain suits? We normally don them for the June storms and heavy dew, but have hardly needed them this year.  We have spent hours moving and hooking up irrigation.  And we are grateful that we have it for some of our crops.  The fields without irrigation aren't looking so good and will likely shrivel and perish unless we get some rain soon.  We are grateful for our friends, neighbors, and customers who check in with us and recognize the challenge of this dry year. We will get through and we thank those who stand by us.
So we pray for rain.  In His time, He will provide.  And the fields will be green again, the creek will flow, and my boys will be joyfully splashing in their beloved mud puddles.